1. Not getting pre-qualified for a loan
So you are ready to buy a home, but where do you start? Before even searching for houses it is important to meet with a lender. A lender will consult with you (for free!) and get you pre-qualified for a mortgage. This could be a quick process or it could take time. You may realize you have work to do to correct your credit score or financial goals to work towards to be able to afford the house you love. Think of this as a financial strategy meeting before buying your property. It wouldn't make sense to BEGIN to strategize before the 4th quarter of a football game… just like it doesn't make sense to begin strategizing two months into your home search!
2. Not underestimating your credit score
We all know we should have a good credit score but do we realize how costly a lower score can be in the long run? Your home loan is based off a tier of interest rates. Having a credit score of 740 and above usually gets you the lowest rates and fees which could potentially save you thousands down the road. For every 20 point downward increment in credit scores, interest rates may go up. Remember that Target credit card you opened two years ago to save 3% off the bathing suit you probably didn't need? It might come around to haunt you… Stay on top of your cards and educate yourself on how to keep your credit score as high as possible so that you don't have to wrestle with your credit when the time comes to buy a home.
Below is a great graphic detailing what makes up your credit score.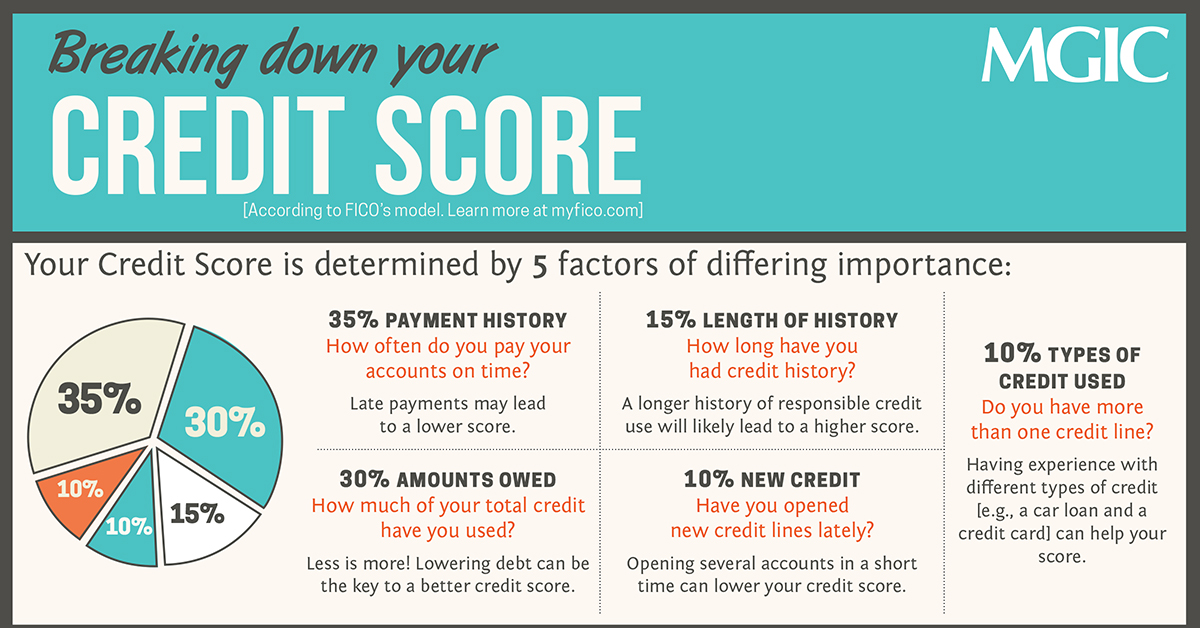 3. Not using a Realtor

Ok so you know how much house you can afford and your finances are straightened out. You are ready for the big game. You start shopping around to look for the perfect home. Maybe you even find one that you fall in love with! Why do you need an agent? You can find the house yourself!
Using a real estate agent as a buyer is not only beneficial it is crucial to saving money and finding your dream home. To start, it is very difficult to see all of the inventory on the market without an agent. Many online sources offer partial or outdated information and are not always clear. An agent knows exactly where to look based on your budget and needs and is able to share new homes that hit the market with you quickly. Once you find the perfect home, an agent will advocate and negotiate with the listing agent on your behalf to get you the best terms and price. The icing on the cake? Buyers do not pay their agent's commission! The buyer's agent commission is paid by the sellers and comes at no cost to the you.
4. Not doing a home inspection
Now you have an agent AND your perfect home! Dust off your hands and move on in? Not so fast… it is important before buying a home to conduct a home inspection.
To start, a home inspection can reveal safety issues like radon, carbon monoxide and mold. Your home inspector will walk through your home and determine any major or minor defects. They will share with you what needs replacement, what is okay for now but should be kept up with and what may need to be looked at further.
If significant defects are found you are able to back out of your contract free of penalty within a certain timeframe. If the defects are not deal breakers, this may be an opportunity to work with your Realtor to renegotiate with the current owners for a lower price or added repairs. Not to mention, you learn a lot during your home inspection about the shelf- life of home components and how to maintain the value of your home over time.
Now go move into your new home already. 🙂